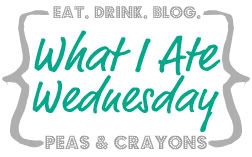 I'm going to start participating in What I Ate Wednesdays as a way to motivate my running and healthy eating. For those of you new to the blog, I'm gluten-free and I live in India. I'm training for a half marathon in August. (We do have a housekeeper here in India who does some wonderful cooking for us. But I also have her do a lot of the prep work -- like chopping the veggies -- and do the cooking myself, often with the help of my almost-two-year-old daughter.)
Here's a summary of my Tuesday.
I took Muffin to school and then met the playgroup moms at our weekly breakfast date. I had two unsweetened iced coffees with milk and a small plate of bacon.
Moosewood Cookbook
) with Orgran quinoa crispibread.
Afternoon Running: About 3.25 miles pushing Muffin in the jogging stroller around the park.
Nancy Clark's Sports Nutrition Guidebook
) and quinoa and a (not pictured) watermelon-feta salad (modified from a
Martha Stewart
recipe -- this is a super-refreshing post workout salad).
Dessert: Glass of chocolate milk.
Second Dessert: Glass of white wine.
For more running fun, follow me on
dailymile
and at my blog
Where in the World Am I?
.
(Some links are amazon affiliate links.)